Adopting a pet is a serious decision, especially for military families whose own lives are often in a state of constant change. It's a commitment, and bringing a four-legged family member into your household shouldn't be an impulse decision. Whether you're active duty, recently separated from the military, a retiree or veteran, at Pets for Patriots we encourage you to consider some important pet adoption issues before you ask, "how much is that doggie (or kittie) in the shelter?" 
A forever home
First and foremost, don't adopt if you aren't prepared to provide a loving home to a pet for the rest of its natural life – period. In this age of disposable everything – phones, MP3 players, even clothes – people often forget that an animal is not a toy or an amusement: it's a living being. Before you think about visiting the shelter, be certain that you're ready to commit to a dog or cat for life. If you adopt a pet to whom you cannot make this commitment, you could be denying it the chance to be saved by someone who can.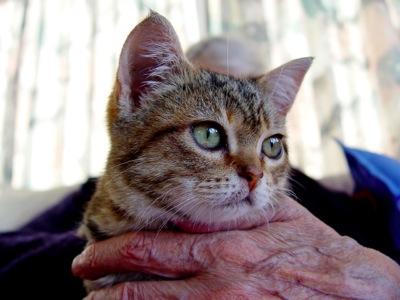 Pets cost money
A dog or cat is entirely dependent upon its caregivers for food, shelter and medical care. Educate yourself about typical pet care costs. Tack on another 15%-20% if you live in a high-cost area, adopt an animal with special needs or just to set aside extra funds in case of emergency. Don't be seduced by low- or no-cost adoption specials at your local shelter. While they do encourage adoptions, they can easily make you forget that a pet has a price tag. Once you're clear on approximately how much Fido or Fluffy will cost you each year, make this figure a line item in your family budget.
Dog person or cat person?
You probably already know if you're a "dog person" or a "cat person," or you may be someone who enjoys both. If you do have a strong preference for one type of companion – a dog, for instance –  but your living arrangements only allow you to have a cat, you have two options: wait until you can have the type of pet you really want, or familiarize yourself with the alternative type of pet to see if you would enjoy having one in your life. You can do this by visiting with friends and neighbors that have the type of animal you're thinking about, asking your local veterinarian, or speaking with staff at your neighborhood animal shelter. Still not sure? Take this simple quiz to help figure out what pet is right for you.
Training pet and person
Life in the military is all about training, and your new four-legged friend will need training as well. Some are surrendered for a variety of reasons, including financial hardship, relocation or other household-related issues. Some dogs and cats are picked up as strays. Still others – tragically – are victims of neglect, abuse or animal cruelty. Regardless of how your future pet got to the shelter, chances are it will need some degree of training to fit into your home and family lifestyle. When training (or retraining) your newly adopted dog or cat, remember that training pets is also about training people. You and your family members need to know how to act towards your pet if you want it to have good manners. And yes – cats need training, too. 
Be prepared to spend time with your new dog or cat and to give it the patience it deserves; chances are it had a hard time before you decided to give it a second chance at life.
Ready to adopt
Once you've done some soul searching and determine that you're prepared to make a commitment to a homeless pet, it's time to visit the shelter. At Pets for Patriots, we often use the term "shelter" generically, but in fact you can adopt through your local humane society, SPCA, rescue or municipal shelter or animal control. We recommend adopting only from tax-exempt organizations, and we don't accept breeders, for-profit shelters or pet retailers into our program. We believe in the extraordinary love of "ordinary" shelter dogs and cats, and are opposed to the sale of household pets.
When visiting the shelter, bring along anyone who lives in your home – including other pets you may have. This will help the shelter staff focus your attention to those animals that will best suit your lifestyle and home environment. It's critical to know if a pet is child friendly, dog- or cat-averse, or has other behavioral considerations or needs that would make it less than an ideal fit for you.
Most shelters have an area set aside for people to interact with any pets they're considering for adoption. Spend the time you need to get acquainted with any candidates. And know that a pet's true personality might not emerge during your shelter visit. An animal may be traumatized by shelter life, especially if it's older or spent most of its life in a loving home. Some may have been considered and passed over by other would-be adopters, and are aloof to protect themselves from possible rejection. Animals do have feelings and are highly sensitive – one of the reasons we want them in our lives in the first place.